Special Events at the Doll & Toy Museum
Heritage Days in Fennimore
Annually the last Sunday in September
Food Stand serving from 11:00 a.m. until it's gone
Free Entrance to the Museum from 10:00 a.m. - 4:00 p.m.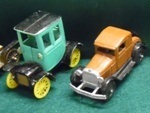 For more information about the museum,
call Connie at 608-822-4100 or Mary at 608-778-1192.
Museum Hours
Opens June 2nd
Thursday - Saturday
10 a.m. - 4 p.m.
Sunday
1 p.m. - 4 p.m.
Location:
1135 6th Street
Fennimore WI 53809
(behind Subway) (Map)
Admission
Free of charge - Donations Appreciated
(air-conditioned and handicap-accessible)
Help Support Us
The Friends of the Fennimore Doll & Toy Museum meetings are held the first Tuesday of each month at 6:30 p.m. at 1720 15th Street. Anyone interested is welcome. Please see our Friends Organization page for more information.
MORE